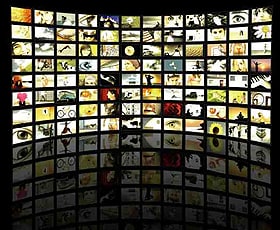 Home entertainment has moved on a bit since the days of the wind-up gramophone and the wireless. Gone are the tiny black and white TV sets tucked away in the corner of the room with broadcasts to watch for just a few hours every evening, and the crackly record players and early valve radios. State of the art audio and video equipment now forms a part of the best home entertainment systems available. Home entertainment centres can be as simple as a TV with flat-panel display and a set of surround-sound speakers, or as sophisticated as the new 'liquid media' systems that can send many different types of media – television, music, films and photos – to multiple rooms in a home. Increasingly available is the ability of the software on smartphones, iPods or tablets to control these systems.
Impact of new technology
People are beginning to customise their homes to create media rooms for the new technology. Home cinemas now incorporate powerful in-ceiling speakers through which film and music soundtracks reverberate; computers can run gaming programs that are projected onto huge ultra-wide screens for simulated entertainment; gaming consoles can be hooked up to monitors and sound systems to be played solo or in competition with friends. Digital projectors are also improving, with brighter lights and improved lamp life and picture quality.
High definition and multiroom systems
 (HD) television sets display a much clearer picture than the standard sets, displaying great colour contrasts and detail. With 64 channels, Sky has one of the biggest range of HD channels available in the UK, and with just one HD pack, Sky Multiroom allows users to view different channels in different rooms via different boxes, in accordance with subscription packages. So in this instance quality goes hand-in-hand with quantity.
Multiroom systems seem set to end the arguments about which channel to watch in the family home, as everyone will be able to tune in to their favourite programme or listen to their preferred music. These systems also make media much more accessible, and as long as there's a monitor or a speaker in any room in the house, video or audio can be transmitted to it. As smartphones continue to get smarter, more and more devices will be able to be controlled remotely.
3D TV
Display screens for televisions continue to evolve and Sky's 3D TV
 brings, literally, an amazing new dimension to programme watching, whether sporting events, documentaries, entertainment or films. As well as the fabulous picture quality, the sound quality is superb, and on Channel 217 users will find the one of the only dedicated 3D channel in Ireland and the UK, featuring live sporting events, great films and masses of entertainment.
Sky's 3D packages include 12 3D film channels and six HD sports channels, plus there's TV on demand for up to 12-hours every week via Sky Anytime+. Those users who already have a Sky+HD box and the HD Pack, plus the available subscription packages for entertainment, movies and sports will only need a 3D ready TV to enjoy some of the best entertainment, film and sports, programmes in incredible Sky 3D at no extra cost.
http://www.systemline.co.uk/multiroomexplained.htm
http://en.wikipedia.org/wiki/3D_television