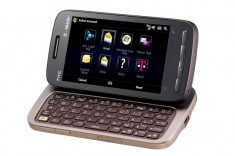 The T-Mobile HTC Touch Pro2 has officially been marked for release on August 12th so all you who didn't fancy the Sidekick Blade 2009
can finally get your wallets out. Worldwide the Touch Pro2 is on a multitutde of carriers but in the US, T-mobile are the only ones getting their hands on it at this point in time.
The T-Mobile HTC Touch Pro2 comes with a 3.2 megapixel camera, AWS 3G, GPS, a 3.6-inch WVGA display, WiFi, and Straight Talk technology that makes it one of the best speakerphones on the market. Although the release deneme bonusu date has been confirmed (august 12th in case you missed it), no pricing or contract details have been announced meaning that the T-Mobile HTC Touch Pro2 could be be either way over-priced or the bargain of the century (somewhere in the middle would be our guess).