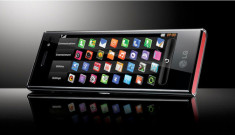 We came across the LG Chocolate BL40
a few weeks ago with a neat little promo vid canlı bahis siteleri courtesy of the handset makers. Today LG have released the official glamour shots of the LG Chocolate BL40 and my does she look sexy (would a pun on hot-chocolate be too cheesy here? Thought so).
Specs and functions of the LG Chocolate BL40 have already been discussed but to recap, the handset comes with a featurephone OS, 5-megapixel camera, 21:9 screen and a forward-facing videocalling sensor. LG Chocolate BL40 sexy time below.