As far gadget innovation goes, Apple are seen as ahead of the pack and not afraid to be different when it comes to design. Well SONY have decided to jump on the bandwagon and bring out the SONY Rolly to US markets.
Already available in out territories worldwide, the SONY Rolly is a portable MP3/ Music player. It is definitely different to look at and when you see it moving, you can see that SONY really wanted to show their moves on the dance floor.
This is billed as a portable 'music entertainment player' by SONY in other words, a multi-format MP3 player. This is all set to be a cult classic with SONY Rolly forums discussing how best to program your Rolly to do the moves you want and showcasing choreography.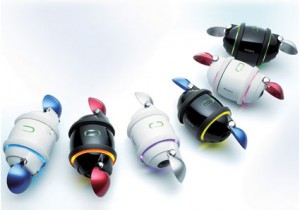 Each Rolly unit comes preloaded with three songs and combined coreography for each song so that when played, the Rolly's arms and shoulders start moving to the beat as it gets down. It also gets funky colour wise with upto 700 colour combinations as the music plays.
From the Press release:
Made for producing superb audio quality, Rolly features 180-degree,
horizontally opposed stereo speakers. As a result, listeners can enjoy high
quality sound from nearly anywhere in the room.

    Sound reverberates from the surface the device is placed on, whether on
a desk or on the floor. With a digital amp for high sound quality and
speakers with neodymium magnets, powerful audio performance is delivered
from the compact unit.

    Rolly Brings Music to Life

    With built-in robotic technologies, the device is designed to move its
small arms, shoulders and wheels-six moving parts-to the beat of the music.
With about 700 colors in its repertoire, lighting adds to the impact of the
motion.
The SONY Rolly Retails for about $400