A long long time ago we wrote an article on the SONY NWZA818 video Mp3 player and hailed it as the most likely to succeed out of those rivals to Apples Nano.

In truth, no other video Mp3 player has made great strides against Apple but the NWZA810 series is still amongst the more popular of the alternatives out there and now it's got some heavyweight backup in the form of the SONY NWZA829 Walkman.
Withiut saying too much, the NWZA829 is probably the best Mp3 player you will see this year along with its siblings the NWZA828 and the NWZA826 SONY video MP3 Players.
The new SONY NWZA820 series is the bigger brother of the NWZA810 series and it certainly looks like a nice upgrade from it's predessecor. As usual with the NWZA Walkman it comes in 3 flavours (click the links below for pictures)
.
– 4GB
Sony NWZA828
– 8GB
Sony NWZA829
– 16GB

[nms:Sony NWZ-A829 -minidisc,4]
(We will use the versions interchangeably in this review as all aspects are generic of the NWZA820 series) Personally, I think that the NWZA810 series was prettier to look at but then again, the Sony NWZA828 is no ugly duckling. If you watched the featured video on the home page (and why didn't you??) you would have seen SONY's latest advert for the Sony NWZA826 and we have to admit it looks pretty slick.
, Sony NWZA828
and Sony NWZA829
The interface of the player has not changed much and the 2.4inch screen should be large enough to veiw movies and videos without discomfort (once you manage to get them on there – more on that later..). The screen is also multi-oriented and can dispaly your images, videos or slideshows no matter which what you turn it.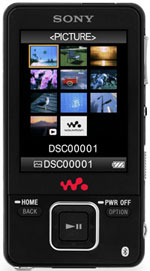 The Killer feature of the NWZA20 series is it's ability to stream audio via bluetooth. That's right, this opens up a whole new realm of Mp3 sharing. You can exchange files easily with others simply by having your bluetooth switched on and sending to or recieving from their player.
The other aspect of this is that you can use wireless headphones when you're out and about which, if you're anything like me, is an absolute godsend. I hate having to fiddle with the headphone wires to get it 'just-so' and then remain in position to ensure the lead does not come out of the player when I make a swift move. The cherry on top of this feature is that both 4GB and 8GB (Sony NWZA826
and Sony NWZA828
respectivley) come with SONY DR-BT21G bluetooth headphones which is a nice addition.
The Bluetooth love doesn't stop there, you can stream audio to virtually any device that is bluetooth enabled. this includes, speakers, hifi's and car stereos. This is one of the best features we've seen in a long time.
In the past, SONY has had issues with its proprietary transfer software on its video Mp3 players but carrying on from the leap forward made by the NWZA810 series you can now just drag and drop your files from and to the Mp3 player without hassle. (you can also use the supplied Media Manager software and add the cover art and additional information to each file). The SONY NWZA820 series is also in cahoots with Microsoft in the it carries the 'PlaysFor Sure' logo meaning that it can interact seamlessley with many third party online content providers.
However, this leads us nicely into one of the major gripes. Whilst the audio features and support are abundent, the same cannot be said for the video features. The video interface is not intuitive and can take a while to get comfortable with all the necessary requirements and parameters need for video to work properly. Video playback itself is crisp and smooth once it's on there but you'll probably be hunting around online for a guide to tell youhow to do it more easily.
The SONY NWZA829 is the kind of video mp3 player for those who want something cutting edge without having to follow the iPhone crowd. Audio wise It's packed with all the right features, video wise it could do better but at least it does not make you feel like a sheep for falling for Apple's marketing genius (who would of thought we would be saying that about a SONY?).

[nms:Sony mp3 player -minidisc,10]