After the runaway success of the N95 it was only logical for Nokia to step things up a gear. The upcoming Nokia N96 is the logical next step for the N series mobile phone. This 3g Smartphone packs all the features of its predecessor but with a bigger punch and without the glitches (the N95 OS was excruciatingly slow to load on occasion)
Looking at the pictures we can see that Nokia have decided to continue the sliding candy bar shape that it is becoming increasingly fond of and whilst no marvel of technological design, the N96 still looks like a pretty tasty cell phone. The 2.8 inch screen boasts sixteen million colours so watching movies and playing games on it will present no problem.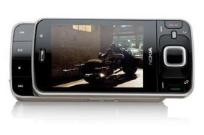 It's Dual Slide like its n95 sister but with a much glossier look. It also bears a strong resemblance to the n81 so that gives an indication of where Nokia is heading in the design stakes.
The built in memory stands at 16gb which is significant for a smart phone and it also has the capability to take Micro SD cards for some added oomph.
One thing that has not been upgraded from the n95 (much to our surprise) is the quality of the camera. With so much of the N96′s energies going into being a camera and media savvy cell phone, it is surprising that it only packs a 5 mega pixel camera. This may sound like a lot and I know that some of you will be scratching your heads at the complaint but given the steps forward in all other aspect it seems a shame that this particular feature seems to have been left behind.
On the plus side for those who rely on their mobile phones for internet access when they are out and about is the built in RSS reader – great for blogs!. Not surprisingly the buzz around this phone is ridiculous and it will be another hot seller for Nokia this year. All in all, the Nokia N96 is a nice forerunner to the highly anticipated Nokia Tube….