The new BenQ 24inch V2400 has put its claim in to being the worlds thinnest 24inch TFT panel display. At only 63mm at it's thickest point, we are not disputing it (although as with all these things, somebody will claim they had the thinnest screen years ago…).
The BenQ V2400 comes equipped with touch sensitive controls, a breathtaking 1,920×1,200 pixels panel and accepts HDMI, D-Sub and DVI video inputs. If all that wasn't enough it also sports 2ms grey-to-grey response time, and 1,000:1 — or 4,000:1 dynamic — contrast ratio.
Forgetting all the generous tech stuff for a minute what we really like about it is the design. As flat panels go, you can't really do much but the BenQ V2400 stands out from the crowd by having an off-centre display stand and a sleek futuristic design. The only off-putting things about it (apart from the price at $300), is the fact that you cannot adjust the height or angle of the screen which, frankly, is a bit crap.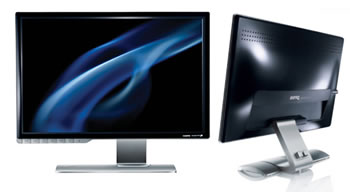 .
source