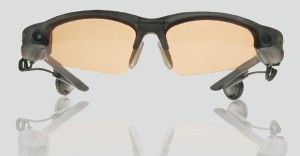 Multi functioning gadgets are all the rage (and better for our pockets here at GadgetHeat
) and the boys at Aigo have released another set of shades in the combined MP3/camera sunglass market. The Aigo F566+ boasts 1GB or 2GB of memory for your MP3/WMA files and a 1.3 mega-pixel CMOS sensor.
You may be thinking that 1.3mp is not large in the scheme of things, considering you can easily get 5 mega-pixels on any decent cell phone these days, but taking into account the high picture quality of the CMOS sensors the image you can get from the Aigo F566+ is superb.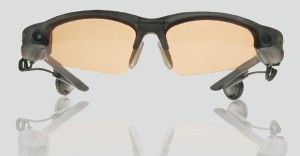 The killer function for us is the fact that the Aigo F566+ comes with a USB port. As you may know by now we insist that everything comes with a USB port otherwise it automatically loses a mark the Great GadgetHeat
Gadget Guide (more on that later). The Aigo F566+ also comes with a remote control and to top if it off, it's not bad looking in the fashion stakes (well, considering that its main function is as a pair of shades it ought to have some fashion sense although we of course think that the gadgets are more important ^^)