USB devices are all the rage no doubt because of the ease of plug-n-play. We've already had USB Turn-tables and we now have USB microphones for all of us aspiring MC's at GadgetHeat
to get down and do our thing.
The Snowflake USB Professional Microphone by Blue Micro is a rather nifty portable little number that can fit into your pocket and then onto your laptop or desktop with a handy little clip. It has a high quality transducer, frequency between 35Hz to 20 KHz which makes it well suited for a range of activities including mobile broadcasting, video narration, audio sampling etc.
As with nearly all USB devices the Snowflake USB Professional Microphone works with the whole gamut of audio software straight out the box so you can get going recording your accapella version of 'Straight Outta Compton 'immediately.
The Snowflake USB Professional Microphone is available for $59.99 at Blue Micro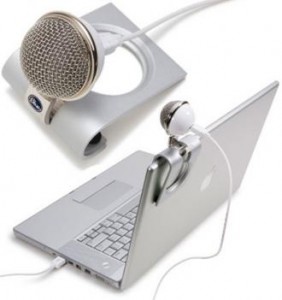 Source