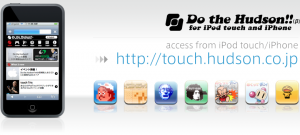 Got an iPhone or iTouch? Into free Bomberman games? If the answer to both those questions is yes then this post is for you.
Japanese video game developer Hudson Soft have just opened the doors of a free games portal of iPhone and iTouch users.
Although this is a Japanese company and initiative, the portal is accessible to anyone who owns wither of these devices simply by going to touch.hudson.co.jp.
The range of iPhone and iTouch games offered at the moment is limited but no doubt will soon expand and they also offer a selection of free downloadable movies. Most of the Apple iPhone and iTouch games are pretty simple memory and match challenges but some do feature Bomberman and there are also a few poker and blackjack games if you like that sort of thing for your iPhone or iTouch.

Hop on over to touch.hudson.co.jp
and check it out

source