You've all heard about C-kins (skins) by now and the Commodore XX and GX gaming PC's (if you haven't you better step your game up and read all about it here
) and Commodore have finally opened their United States webstore for you to grab your high-tech rigs from.
Commodore has long been a favourite of gamers in the United Kingdom and worldwide since the days of the Commodore 64 which made Commodore a household brand in the UK (never mind it being one of the biggest selling game systems of it's time long before Nintendo and Sega got their swerve on) and with the launch of the Commodore XX last year they've really got a winner with their powerful gaming and graphics machines the Commodore GX and Commodore XX.
What makes the Commodore Gaming machines stand out even more is the C-kin panels each unit comes with. As you can see in the pictures they are pretty unique and to top it all off, the pictures are not painted on or even airbrushed but are burned into the panels giving a solid smooth finish. You can even interchange and swap panels if you want to give your PC a new look.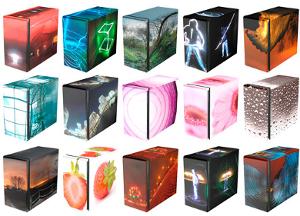 The webshop is finally open to United States customers so if your looking for an insanely customised new machine and you are a heavy games and graphics user go check it out Commodore gaming