After a slightly disappointing season, Manchester United can reflect on one league that they won comprehensively – the LED Hut Footy Under Floodlights League.  The league is based on results in the most recent 38 games in the Premier League to be played under floodlights and showed that the red side of Manchester came out clear winners.
The league
The league was created by LED Hut, one of the top online LED lighting retailers in the UK and was designed to showcase the quality of their products as well as the fun of playing football under LED floodlights.  To qualify for the league, a game had to be played after 5:30pm from August to May and from 4pm during November to March.
The results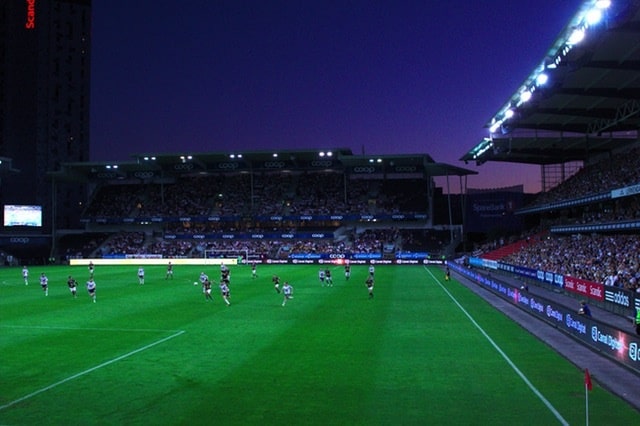 While Leicester City may have been the shock champions of the Premier League itself, they didn't do the best under floodlights and failed to win any of their games qualifying them for the Floodlights league.  Manchester United
, on the other hand, took an impressive 21 wins and eight draws from their last 38 games under lights including victories against rivals Manchester City and Liverpool.
Their nearest rivals were Manchester City followed by Arsenal and Liverpool, who managed to gain late game points to beat competition for fourth from Chelsea and Bournemouth.
Unsurprisingly, teams who performed poorly in the league itself were also down low in the Floodlights League with Newcastle and Aston Villa being in the bottom three.  They were joined by West Brom whose high number of evening draws left them in a low position.  Newcastle saw a terrible 22 defeats from their most recent 39 matches including a heavy 7-3 defeat to Arsenal at their Emirates stadium.
The winner of the single biggest win margin in a game went to Chelsea when they soundly thumped relegated Aston Villa 8-0, a result that was also the worst defeat that the Birmingham team had ever suffered.
LED Benefits
While the Floodlights League is a bit of fun organized by the sponsors of Salford FC
, it does show that increasing numbers of sports venues are turning to LED lights to power their evening fixtures.  The quality of the light created, the cost effectiveness for clubs and the atmosphere created for the fans is all leading clubs to turn to LED, regardless of their size.  The longevity of the bulbs is another reason clubs are opting for them, with the ones installed by clubs such as Chelsea and Southampton expected to last around 10 seasons.