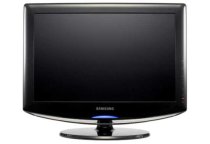 Well 19 inches isn't exactly mini but in the world of HD Televisions it definitely has a size complex. The Samsung LE19R86
is a decent enough little number with 'little' being the operative word. We have nothing against small televisions but in order to really benefit from HD technology (in our humble opinion) you need to be looking at a 32inch television at least.
The Samsung LE19R86 needs quite a bit of tweaking in order to get the best out of it. The three settings (akin to most Samsung TV's) are Standard, Dynamic and Movie with an extra 'Game Mode' for all us Playstation 3 and xBox 260 heads.
If you a are looking for a television set specifically for gaming purposes or for your bedroom then this should definitely be high on the list of those sets you are considering. If you are looking for a television for your main bedroom then I would give the Samsung LE19R86
a miss and perhaps look at its bigger 26 – 40 inch brothers in the same category.
Now you may see a lot of reviews and here from other users that you cannot turn off the Samsung LE19R86. This is complete rubbish. Switch the plug off (or pull it out) and it's off! How hard is that? What they are complaining about is that if the plug remains in the socket and the socket is set to on the television will stay in standby. This is the same for almost every electrical item so we do not know what they are complaining about.
On the looks and style front the Samsung LE19R86 cannot be faulted. They thing is probably one of the best looking HDTV's on the market and Samsung are staying ahead of the competition (are you listening SONY??) when it comes to being gorgeous.
You can check out our store
for more info on the Samsung LE19R86
and in truth if your thing is sexy and small you probably couldn't do much better than this set.