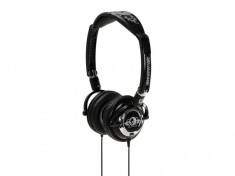 OK we know, long-time-no-see etc but we're back with the Skullcandy Lowrider Headphones Review. Why? Don't ask why just don't look a gift horse in the mouth…..
Big, ear-muffin headphones have been in the spotlight for a while now and who are Skullcandy to buck a trend? Skullcandy ratings
and reviews remain consistently high, product after product so we had high hopes for the Skullcandy Lowrider Headphones.
These highly portable headphones can fold-up into your jacket pocket no sweat and are equipped with a 40mm speaker which although produces an undeniably quality sound, it can also be heavy on the bass on occasion.
The headphones are iPhone/iPod compatible due to the 5mm jack and can also fit a wide array of other mp3 players. The only major drawback we came across was their size. Yes we know we lauded them for being highly portable but therein also lies the problem. They are can-style headphones with smaller than average cans meaning you get plenty of sound leakage and can't really get into that 'audio-zone' as you can always make out noises around you.
For the average, casual listener this flaw of the Skullcandy
Lowrider Headphones may not be a big no-no but for the dedicated audiophile, meh.