If you're managing projects, especially at the global and multi-disciplinary level, and not using online project management software—you are in danger of falling behind and hurting your workflow. It's as simple as that. I'll share three compelling advantages to using task management
software, and why Wrike is my preferred online project management service. (Your milage may vary if you are using other team collaboration tools, although the basic principles are the same.)
Clear Team Communication
Your team needs accurate, timely information in order to do their best work, so your project files need to stay up-to-date at all times. With Wrike, task updates are made in real time, so the minute something is changed, edited, or tweaked in any way, everyone has access to the latest version. Clear version history means there's only one file, so there's no confusion about which versions are approved or up-to-date. The ability to eliminate the confusing mess of drafts and document versions—and access the most up-to-date work files from anywhere—well, that alone is worth using a work management solution many times over in my opinion.
Wrike also offers free mobile apps so you can stay connected to your team while on the go. Both the iOS and Android project management app allow you to manage work and stay up-to-date with the latest progress from wherever you are.
Full Transparency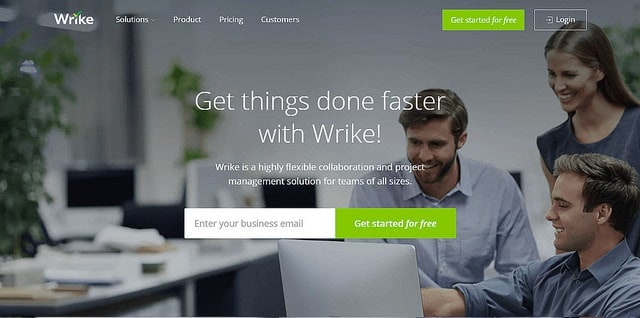 Wrike offers custom workflows, so everybody on your team is 100% sure at all times where tasks and projects stand and what the next step is. This allows for clearer hand-offs and responsibilities and smoothes collaboration across teams and departments, which is bound to increase productivity and morale, especially on bigger projects. And with built-in timeline software
, you can visualize your project schedule, drag-and-drop to make changes and adjust priorities, and ensure your team meets every milestone and deadline.
Greater Accountability
Every action, comment, and update to a project or task is logged and time-stamped, which keeps important tasks from falling through the cracks and prevents the kind of "passing the buck" behavior that can be common on big projects. Managers can see exactly who did what when, and even more importantly,  process problems get uncovered and resolved so that the team can be more efficient and effective. There's nothing more frustrating than being in charge of a large project and having things not running on schedule, everybody blaming each other, and no clear way to resolve the problem. This alone is well worth investing in an online project management service.
In conclusion, whether you're about to start a new project or managing a business, you should definitely check out Wrike's various subscription plans to see which is the best fit for you. It's that good and that important for team efficiency and workflow issues. I know I could never go back to working without it.