We have a few bees in our bonnet here at GadgetHeat, one of them being the motion blurring on many HDTV's on the market and the attitude of many manufactures seems to be one of 'put up and shut up' (unlike the near flawless Samsung LN46A650
).
This is evident from the start in the Toshiba 37X3030
. Although Toshiba claim that it has a 24fps (Frames Per Second) capability (which would effectively eliminate motion blurring) the Toshiba 37X3030 cannot actually do anything much with it as it is not fully 24fps compatible. Confused? We know we are….
What is the point of having a feature that is not fully implemented? What this means in effect is that in action sequences or in any panning shots we get the dreaded HDTV blur that makes you yearn for your old CRT monitor. Watching sports in standard definition on the Toshiba 37X3030 is a struggle because of the speed of motion so you will have to sit a reasonable distance away from the set to be able to tolerate it.
Another gripe is the fact that you cannot input 1080i/p through VGA on the Toshiba 37X3030
. You have to use HDMI or component. You may see this as a small problem as all Blu-Ray and HD DVD players these days have HDMI connectors / slots but if you have a Xbox 360 (non-Elite) be warned that you will have to use component to get the HD experience on some games.
On the plus side (yes there are some pluses) watching up-scaled DVD's or HD DVD / Blu-Ray on the Toshiba 37X3030
is amazing. You will have to adjust the settings to suit your room and viewing distance but once that is done you should get the full 1080p benefit from this HDTV.
The Toshiba 37X3030 is a classy looking television set and the piano black finish makes it stand out somewhat from the usual HDTV crowd. It's not a dust magnet either in particular.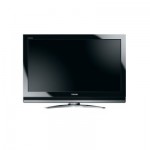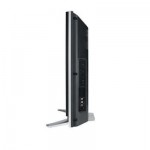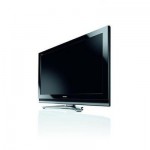 For the price (around £600 – 700) the Toshiba 37X3030
is pretty good for a Full HD (1080p) television and if you have Sky HD and the such you won't be disappointed – just make allowances for some pixilation when it comes to fast moving images.