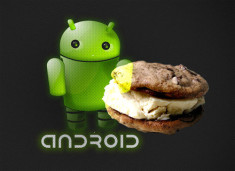 While most expectation for news from Samsung is turned to its upcoming flagship Galaxy S3
, the Korean manufacturer has been providing updates for the rest of its Galaxy line. The Galaxy S2 is currently undergoing an upgrade to the latest version
of Android's operating system, Ice Cream Sandwich – which is taking longer than Samsung expected. Now the firm has announced a device lower down the price range of the line will benefit from an upgrade providing access to some of the features of Android 4.0.
The Samsung Galaxy S, the manufacturer had already announced, would not be receiving a full ICS upgrade because it could not withstand the full operating system, Currently running Android Gingerbread, the S does not have a powerful enough processor, nor enough RAM for the full upgrade. Manufacturers need to conduct a lot of testing and integration with any upgrade to an operating system. As Samsung often focuses on producing devices for every price point in the smartphone market it is clear that not every device will be able to benefit from the same updates.
Samsung is describing the upgrade as a "value pack" meaning owners of the Galaxy S will get some of the benefits of Android 4.0
including Face Unlock, picture capture during filming and various launcher improvements.
Owners of the budget device will need to have some storage space on their device and have Kies 2.0 to be able to benefit from the partial upgrade. At the moment it is only available in Korea, with news expected on the coming weeks of when it will be available elsewhere in the world.
The upgrade may only be a partial one but it is good new that Samsung is still focussing on its budget handsets. With incredible figures suggesting the Korean firm has shipped over 40 million handsets already in 2012 it suggests that having devices available for every budget in the smartphone market is an important strategy, and one that is paying off. It might be disappointing for Galaxy S owners that they are not going to benefit from the full Android 4.0 experience but at least they will get a useful upgrade that will allow them to play with some of the tricks of the operating system.
Increasingly also, the upgrade is pointing fingers in the direction of the Galaxy S3 to have Ice Cream Sandwich at its launch. Implementing an ICS upgrade to the S2 has largely, one would expect, have been a research ground for Samsung, paving the way for them to explore how to integrate the latest version of Android into their own TouchWiz skin that runs alongside the OS. If it works well then it is likely their new flagship device will launch with the latest version of the operating system. Considering so many of Samsung's competitors, like HTC, Huawei and Asus are launching flagship devices already running ICS this quarter, it would be a step backwards if they were to launch their latest flagship device with what is being perceived as an old operating system, especially as it looks as though Android 5,0 could be coming sooner rather than later.
Looking for accesories for your Galaxy S? Check out the Galaxy S Akku