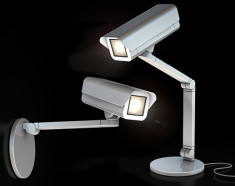 The Spoticam Lamp gives you the (reassuring?) feeling that you're being watched even though it is only a 'sign of the modern times' light source. The average person living in a big city is caught on camera around 300 times güvenilir bahis siteleri a day so the Spoticam Lamp should make you feel right at home, in your own home.
Designed by Antrepo Design Industry, the Spoticam Lamp comes in pure white or raw aluminium and with an adjustable arm so you can point it in the direction of your next door neighbour and make them think that you have your eye on them.
No word as yet as to when the Spoticam Lamp will actually be manufactured so if you want that CCTV feeling, just step outside your front door and stand under a street lamp, believe us, you are being watched.