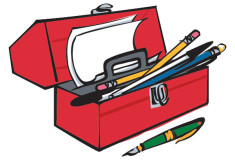 There are dozens, if not more, different types of writers out there. Some are journalists, some are novelists and others are still students. Some work solely online, whilst others are in print. Whichever type of writer you may be, you will need to use the below tools to make sure your writing is impactful.
Tools Every Writer Needs
Making use of the following tools is sure to greatly improve your writing. Do not hesitate to make use of everything at your disposal today:
Proofreading Resources. There are many resources made available online that will help improve your grammar, spelling and overall flow of your written works. For example, www.gingersoftware.com

is a great tool to use that will double check numerous aspects of your paper to guarantee you aren't making any sill mistakes.

Other Writers. Your writing friends and colleagues may not like being called tools, but they are certainly valuable resources. Simple ask them for any feedback on anything you've written. They'll be able to help you in ways that you can't even prepare for. You'll learn new skills, writing strategies and have an added source for proofreads.
Outlining Tools or Methods. Outlining skills are used by almost every type of writer, from journalists to novelists. Learning how to outline is part of becoming an effective writer. You may find that a certain method of brainstorming works for you. You may also find that special software is even required. Learning how to outline is one of the best skills to learn to improve your writing. You can find more information

about improving your writing throughout the internet.
It doesn't matter which type of writer you are, you need to be using the aforementioned resources. You'll make sure that you don't end up writing poorly and you'll likely expand your overall writing skills. If you've chosen the profession of writing, continuing your education and expanding your skills is required for the industry!