When it comes to cars, Porsche is one of the kings of the road (well in suburbs where you can safely show-off without getting car-jacked) and now they have turned their attention (and brand name) to the audio market with the release of the new P'9120 Porsche Design Eton Stereo system with separate iPod dock (I thought that Eton was a posh boys school in England?).
The P'9120 Porsche Design Eton Stereo system is rather striking to look at and the stereo design gives a hint as to the power that lies beneath which is what GadgetHeat would expect from all things Porsche. Three speakers on the aluminium outside (flashy) hide a sub-woofer underneath to give you bumping bass just when you need it.
The P'9120 also comes with AM/FM radio as well as DAB. The OLED display on the stereo is stylish but small and the 'different' style of the remote control makes sure that you will never lose it and if you lose anything else, the remote control can help you find it as it comes with a torch (yay Porsche for thinking about things that we don't really need but are cool to have anyway). The iPod dock is nothing spectacular and if you are in the market for a dock, you may want to check out this wooden iPod Dock
or the Twin Ipod and iPhone dock
.
The tech specifications state something about double wall construction for 'superior acoustics' which just means to us that this is what they are using to justify the $900+ price tag attached to the P'9120 Porsche Design Eton Stereo system (boo Porsche for making us pay way over the odds for your brand name).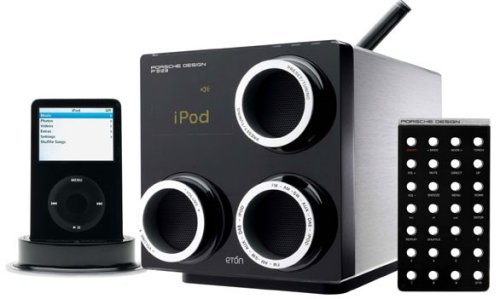 source