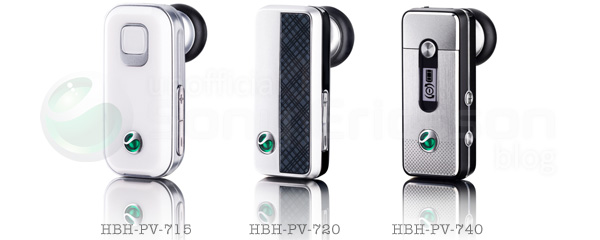 Hot on the heels of the new SONY bluetooth headsets
SONY Ericcson have revealed their own forthcoming Bluetooth headset trio, the HBH series.
These three natty little headsets are similar in performance so it's on style where they are differentiated. SONY Ericsson tout them as having 800 hours worth of standby time (really?), 11 hours talk time, support Bluetooth 2.0 with auto pairing and also come with digital noise reduction (DSP). Pretty feature packed to say the least.
Lookswise however, is when each of the headsets comes into their own. The slick looking HBH PV715 can be seen as the entry level headset, available in a glossy black or white finish which all the staff at GadgetHeat actually prefer to the other two. The next model up, the PV 720, allows its owners to customise the look of the headset by using StyleUp covers which leads us to wonder if this headset is aimed at the under 18's and 'laydeez'. The fact that it comes with a silver chain and a pouch also points the finger at SONY Ericsson's marketing men having a 'niche' in mind when they rolled out the HBH PV 720.

The third offering, the PV 740 has a distinctive metallic finish and is also the only one of the headsets that comes with a status display embedded into the device, as well as a USB charger and a desk stand (for these extra features GadgetHeat will overlook the fact that it also comes with the girly silver necklace).
The SONY Ericsson HBH series will be available later this month with pricing reputed to be around the $100 to $160 mark.