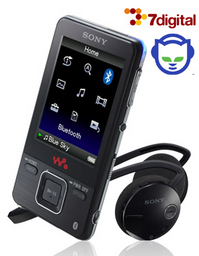 We announced a few weeks back that Napster had got back into the legal MP3 downloads game big time with the launch of the worlds biggest MP3 store (and without any copy or DRM protection to boot). Well it seems like they aren't just stopping there, they have teamed up with SONY and more specifically the SONY NWZA-820 series, to bring mp3 users some free tracks.
Those who buy any one of the three players within the SONY NWZA-820
series will now get a FREE 14 day trial of 'Napster to Go'. The sad thing is that this is only for UK consumers, everybody else is straight outta luck. Customers can use the service on upto three different PC's and can even keep upto 5 tracks after the trial period is over, DRM free for use on the SONY NWZA-820
series.
We have an indepth review of the SONY NWZA-820
series, have a gander and see if it's up your street. The NWZA-820 series comes in 4GB, 8GB and 19GB flavours and it's one of the best MP3 Players GadgetHeat
has seen this year.

The good times for SONY NWZA-820 owners doesn't end there though. SONY has also formed a partnership with media company 7 Digital in order to allow vouchers for free downloads to be packaged with the NWZA820 sold through Argos shops in the UK. Looks like SONY really wants to sell some MP3 players this quarter…