With it's distinctive retro styling, the m21 Flat TV Console by Joe Wilkerson is a definite blast from the early 80's (or even 70's) but with a decidedly modern twist as it has an embedded flat-panel screen.
I don't know about the rest of you out there but when we at GadgetHeat
were kids, televisions sure didn't look like the Wilkinson Flat Panel m21 Console.
My TV was about half the size of the house and you actually had to get up out of your seat to change the channel (hard times).
The m21console is made almost entirely of walnut hardwood and nests a 42″ Plasma screen (no information on whether or not it is HD yet).
Below the screen section is space designed to hold a centre speaker and the section is made out of Fender amp screen material.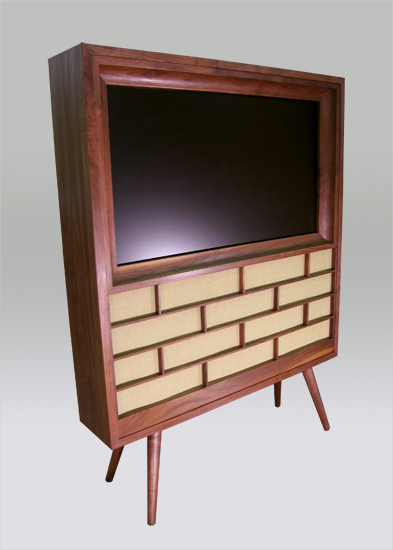 Wilkerson Flat Panel m21 Console looks to be just a test product at the moment to gauge market response and they have yet to confirm whether or not they will marketing the whole unit as a package or if the console and plasma screen are to be separated in the final product. GadgetHeat
would strongly recommend that the display is shipped as a single unit as the effect it had at the Dwell on Design exhibition where it was on display suggests that the m21 Console would be a success when released.

source