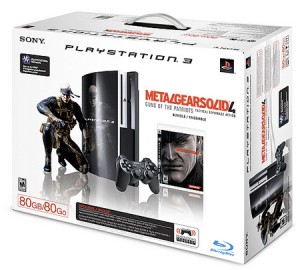 SONY have realised that the rest of the world do count for something so have decided to release this special edition Meta Gear Solid 4 – Guns of the Patriots
PS3 to the Americans as well as the Japanese (they had only planned on giving it to the Japanese initially).
The 80gb PS3 is will be gun-metal grey in colour and have 'Metal Gear Solid Limited Edition' etched into the top of the console. No mention of a UK or Europe release yet but keep watching GadgetHeat
for the latest news and we'll let you know as soon as we hear anything.
The box art looks amazing and this is no doubt a collectors edition but in truth, there is already a 40gb gun-metal grey PS3 on sale in Japan already so it's not really that special. There are also no special features added to the MGS4 PS3 so apart from colour, it's no different to a standard 80GB PS3 which means that the 60GB PS3 with backwards compatibility still kicks the most arse.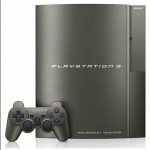 You can pre-order Metal Gear Solid 4 – Guns of the Patriots
from Amazon now and from the way GTA IV went i would get in there early if I were you….
Buy from Amazon.com
Buy from Amazon.co.uk