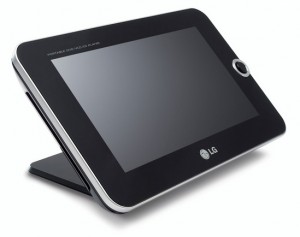 Personally i have no time for digital photo frames. Don't ask me why but they are just one gadget that I just don't get the point of (and that's saying something). The LG DP889 portable DVD Digital Photo Frame however, is on the verge of changing my mind. Given LG's recent DVD Player the LG DVS450H
, I have high hopes for this one…
The DP889 is not only your run of the mill 8″ digital photo frame, it also doubles up as a portable DVD player and triples up as a CD player. Pretty diverse functions, just the way I like it. The LG DP889 also comes with USB connectivity and a 3 in 1 memory card slot so you can see that LG wants to make this as usable as possible.
Currently the LG DP889 portable DVD Player Digital Photo is costing around $200 at circuit city
even though the list price is $279.95 so if you're quick you can grab yourself a bargain and have an handy place to play all your DVD's made on a HD camcorder
or store the pictures from your digital camera
all in one. Handy.
source