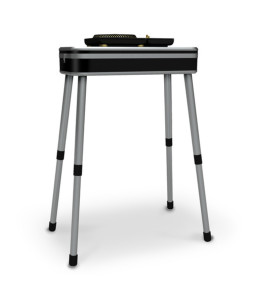 If you're a fan of DJ Hero then you'll probably be salivating at the mouth for the upcoming Renegade Edition (or to kicking yourself for forking out on a DJ Hero pre-order rather than waiting for the DJ Hero Renegade Edition come out). This is definitly one for DJ's in training as the version comes with a large carry case that has telescopic legs for the turntable to stand on and a few extra metallic flourishes on the switches and buttons to make the whole experience more realistic.
DJ Hero Renegade Edition also comes with a Jay-Z and Eminem 2 disc bonus CD featuring unreleased tracks by the artists. If you're not a fan of those artists then your out of luck cause there aint no trippy-hardcore CD set as an alternative.
DJ Hero and DJ Hero Renegade Edition will be released this fall. There is no price for the renegade edition as yet but the vanilla version will set you back $120 so think big numbers for the DJ Hero Renegade Edition.