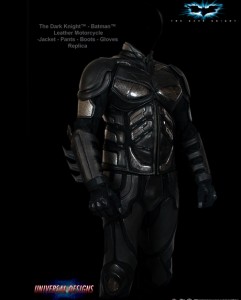 The Dark Knight Motorcycle Suit ups the ante when it comes to spin-off movie merchandise. Forget the custom Dark Knight Xbox360
, this is the real kudos item for Batman Dark Knight fans.
The is a comic fans wet dream. It comes with a heavy-duty Cordura base with four-way stretch inserts, leather and Kevlar plates, internal CE body armor and the trademark (and possibly illegal) wrist spikes. The only thing missing is a Batman Dark Knight helmet to go with it. The Dark Knight Motorcycle Suit comes with a jacket, gloves, pants and boots. No price as yet for the Dark Knight Motorcycle Suit but think big digits and you won't be disappointed.