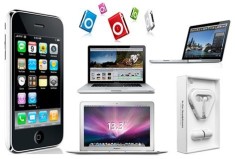 They have an enormous role in our everyday life, so much so that it is difficult for us to imagine life without them. They make our lives organised, entertaining and easy. They are gadgets. Big and small, simple and complex, they are in our houses helping us through our daily lives. No matter how many we have, we never have quite enough. Today, with the many sales, specials and discount voucher
offers available, buying the latest family gadgets is easier and more inexpensive than ever.
Which gadgets, gizmos and whatnots are must-have for the modern family in 2012? Here are some of the best, brightest and most unusual, all selected with an eye toward fun and enjoyment for the family as a group.
Sport & Leisure Gadgets
For the family who enjoys spending time together in the great outdoors, a number of innovative and unusual gadgets and gizmos are available. Snowball fights will be twice as thrilling when the kids are armed with mechanised snowball launchers, such as the snowball slingshot and the 50-foot snowball launcher. GPS-enabled ski goggles will ensure that you and your family will find you way even in the worst blizzard.
Popular for indoor/ outdoor fun is the smartphone-controlled helicopter. Adults and kids alike can download the free phone app and turn their smartphone into a wireless remote control for a lightweight helicopter. A swipe of a finger or a tilt of the phone sends the helicopter swooping here and there.
Travel Gadgets
Travelling with family can be difficult, but these innovative gadgets will make the trip much more enjoyable. Pocket digital televisions allow you to take your favourite show with you on the road, and the television teleporter picks up the wireless signal from a transmitter indoors, sending a signal up to 100 feet away.
For those inevitable rainy days, games such as Scrabble Electronic Scramble and customisable electronic Trivial Pursuit provide entertainment and encourage family togetherness. Snuggling up with a hundred good books is convenient and easy to handle with the e-readers on the market, including Kindle and Nook.
Kitchen Gadgets
Considered the heart of any home, the kitchen is the gathering place for many families. Home theatre popcorn makers, healthy deep fryers and homemade candyfloss machines are some of the latest kitchen gadgets on the market.
Where to Get the Best Deals on Gadgets
The latest gadgets sometimes do not come cheap, but taking the time to look at all shopping options can lead you to tidy deals. So where are the best places to buy the latest gadgets? According to the readers of Consumer Reports, the best places are online. Websites such as Crutchfield.com and Amazon.com offer user reviews and shopping assistance along with their product quality and deals. GiftsWorld, the popular UK gift store, offers a myriad of unique gadgets and colourful gifts on its online site. Hammacher Schlemmer, a New York City institution for over 160 years, offers an incredible array of unusual, high-tech gifts on its website, in its catalogue and in its Manhattan store.
Additionally, many online sites are dedicated to helping consumers garner even better deals, both in-store and online, through special discount vouchers and sale offers.