A popular trend that has taken the design world by storm is animation effects. Many designers in the industry used to look down on fancy presentations because they thought that it would distract visitors from the goal and cause loading issues that would lead to site abandonment. However, animation effects are actually drawing in more visitors, breaking engagement records, and keeping visitors glued to the website until the very end, all while achieving the website's goals. Here are 20 website layouts that are using some of the most brilliant animation effects.
1. Publicis90
Publicis90 uses beautiful transitions throughout their layout. Each page presents a set of different shapes and colors that transition into something new as you scroll to the different pages. It uses the element of surprise to hold your interest.
2. Chekhov
Chekhov has built a quirky and funny personality test that pairs the perfect animations with the questions. The design and layout of the website is fairly simple. It reminds you that sometimes great animations with strong colors can make all the difference.
3. Perfect Day Foods
Perfect Day foods uses transition effects to explain their product. The result is a presentation that looks like an amazing science experiment. The mouseovers on the graphics also complement the effects and provide helpful information to the user.
4. Bar Camp Omaha
Bar Camp Omaha combines 3D objects with 2D effects to create a weirdly satisfying design. It feels like they're putting real life objects and putting them into a comic strip. The long form sales page layout does a great job of integrating all the crazy elements and graphics.
5. Neomam
Neomam uses an infographic layout to of all things inform about infographics. The site opens up with captivating animated graphic and uses almost hypnotizing parallax background effects as you scroll down through the page.
6. Daniel Sterlicht
This is one of the most amazing layout you'll ever come cross. The designer created a 2D game similar to the classic NES Zelda games where you use the character to browse to different houses to browse to the different pages.
7. Full English
Full English uses beautiful flat animation designs to present their long form sales layout. Everything from the background, accents to the animated images are consistent and immerse you in the site's design theme.
8. Toasted Design
Toasted Designs combines the most popular design trends in their presentation. You'll see flat designs, sketch animations, unique iconography and a modern design all used on this site. The pages also shift according to where you move your mouse to remind you that you can browse from one slide to another.
9. Cyclemon
Cyclemon uses the classic parallax presentation done in a flat animation style. Rather than wow you with the standard parallax style (flip book animation), they take the main bike and have it transform into different designs that also match the changing backgrounds.
10. Designed to Move
Designed to Move uses a hero image style layout. But instead of a large image, the background has a low res video playing in a loop. This presentation adds context and imagery to the headline which makes you want to click on the video.
11. Olszanska
This is one of the zaniest yet most brilliant designs you'll ever come across. It uses Parallax design very heavily. Across the whole site, you'll see animated images, sketch animations, a variety of interactive elements, and beautiful transition effects all done in an avant-garde/modern art style. You're going to need a reliable web hosting provider to maintain a site that consumes as much bandwidth such as this.
12. Every Last Drop
Every Last Drop uses flat design and a brilliant story to present their cause. It uses parallax to walk you through the average person's day and how much water is being consumed. The site also has an interactive UI designed to get you to play their video.
13. Museum of Mario by IGN
IGN has created a brilliant web presentation called the Museum of Mario. It walks you through the history of the iconic game from Nintendo. By taking the journey, you're rewarded with fun interactive elements, retro animations and beautiful 3D effects.
14. Bradley Hanes
Bradley Hanes is a designer that presents his work in a very effective way. He combines parallax and transition effects to showcase his work. It does a better job in selling his experience and displaying his portfolio than the average web professional's site.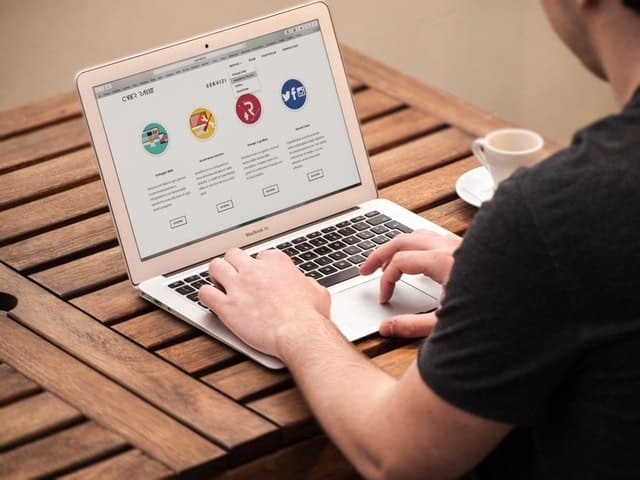 15. Babel the King
This site is designed to sell an app that is an interactive storybook. It uses beautiful transition effects, parallax effects and interactive elements to give you a glimpse of what customers will experience with their app based children's storybook.
16. Imaginamos
Imaginamos uses beautiful transition effects for their main page. But what's really amazing is how they manage to create a compelling presentation by using typography in all the right ways.
17. GitHub
GitHub has designed a hilarious 404 page. The animation creates a dizzying effect when you move around with the mouse. The design is creative and works incredibly well. And of course, the homage to Star Wars is not lost.
18. Garden
Garden is a beautiful site that uses parallax design but approaches it in a minimalist way. It doesn't aim to wow you but simply add context to their message. The subtle effects, color scheme and great typography come together to create a strong design.
19. Kick My Habits
Rather than use a parallax scrolling design, Kick My Habits uses fun and well-designed moving animations and transitions for their survey site. The site uses interactive elements to drive the presentation forward and does an amazing job in keeping you hooked until the very end.
20. Survey of the States
Survey of the states uses parallax design for their infographic. If you think that infographics are engaging, you need to check out this presentation to see the successor to the infographic. It combines interactive elements, parallax effects, transition effects and a content packed presentation to entertain and educate you.
These are some of the most creative and brilliant animation effects that you'll ever come across. If you plan on designing a website using similar animation concepts, make sure you use a reliable web hosting provider that can deliver a fast browsing experience and handle the bandwidth that your site will need once it goes viral. These groundbreaking layouts should have your brain synapses firing for your next design project.