If you're just starting to exercise and you're not sure exactly how much weight you want to lose, or if you've been a hardcore weightlifter and have been recording your routines on pen and paper, this list will help you to create and reach any workout goal you might have. Thankfully we live in the age of technology where there is a variety of technological tools we can access and use to help us track our steps, provide workout plans, and so much more. In this list you will find four different types of tech that can help you progress and actually feel accomplished after following a set plan. So throw out your outdated record keeping and find out more about apps, fitness trackers, and video games and how they can stand in as your own personal trainer.
Fitness Tips
Before diving into how to improve your workouts, remember that with any type of exercise, you need proper nutrition. Especially if you want to lose weight, skipping meals will leave you weak and exhausted. You need a nutrition-rich diet that provides you with sufficient calories to burn in order to perform your best. Make sure you eat a carb-heavy meal before you are doing any kind of training or a race. Fill your plate with leafy greens such as kale and spinach to get enough vitamin A and iron.
It will also benefit you to take a dietary supplement. There are hundreds of supplements that ensure you will receive the correct amount of nutrients, help adjust your sleep schedule, and can even raise your energy levels to help with an exercise routine. Because there are also hundreds of supplements that are mostly filler ingredients and don't actually help, do your research before buying. Websites like Scams Review compare different brands of supplements. Click here for more to learn more about Scams Review. If you're looking for peak muscle performance, a supplement like NItric Oxide can help build muscle strength and maintain your endurance during workouts. If you're feeling exhausted constantly, taking omega-3 will help give you more energy and help you feel better overall. Whatever your supplement choice, make sure you've read reviews to ensure you're getting the best type of supplement for you.
Fitness Tracker
The most widely-used gadget for fitness is definitely the fitness tracker. Updated from the clunky pedometer, there are hundreds of these sleek pieces that count your steps throughout the day. Depending on the cost, a fitness tracker can record many things like your heart rate, distance travelled, as well as your pace, speed and strength. Some trackers also include individualized workouts based on the stats the device has taken from your own personal history. It can also help track your progress and sends little encouragements and daily advancements, acting as a supportive friend. Companies like Fitbit provide an interactive platform where you can compare your workout statistics with your friends to create a little healthy competition. Research has shown that with an added device, users increase their activity 27% more when compared to their activity before getting a tracker. The study concludes that setting a step goal for the day ensures an increased amount of movement throughout the day. You can buy a standard fitness tracker for $29, or get a GPS and heart monitor included for around $110.
Fitbit Coach App
If you don't want to invest in buying new tech, you can spend around the same price as a gym membership for an app called Fitbit Coach, available for both iOS and Android. This does the same thing as a fitness tracker, but you have to input all the information. The app also includes tailored workouts made especially for you, audio guides, and instruction videos to help you build up workout routines. You can share your stats with your friends and compare your workout goals. Fitbit Coach helps track your daily activity, which helps you become more aware of how much you've done and where you need to improve. Best of all, it has tailored music playlists that get you pumped up for a workout.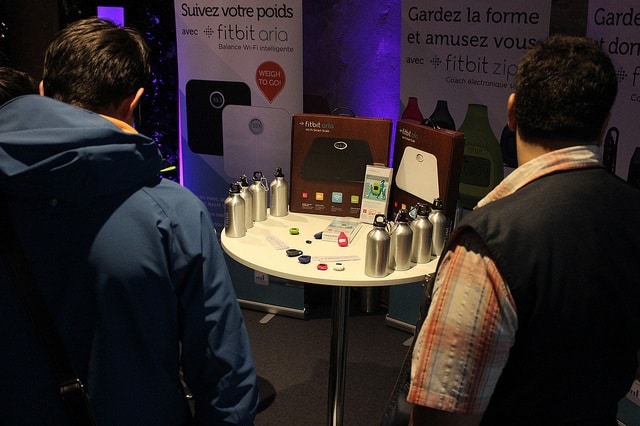 Under Armor Map My Fitness App
Similar to Fitbit Coach, Under Armor Map My Fitness gives you access to other users to share workout tips, favorite running trails, and top performances. There are over 600 workout routines available through the app, including weight training and cardio. After logging in your details, you can use this app's GPS feature to track your progress, miles run and calories burned with other users. You can set your own personal goals or follow what is suggested by the app's settings. Purchasing a subscription to the app provide more personal training programs as well as heart rate tracking. It is available for both iOS and Android.
Wii Sports
If you hate working out, play a game to get yourself moving. Wii Sports has a ton of games that help you burn calories while playing golf, tennis, boxing or bowling. Research has shown that although calories burned are not nearly the same as playing the actual sport, you burn at least 2% more calories than you would if you were just sitting on your couch. Don't think about the calories, though. Playing games gets your heart rate up, which improves your blood pressure, unclogs your arteries, and lowers your risk of heart disease. This is the most costly of all the gadgets listed in this list: a Wii console costs $66, not including the cost of the games, which are over $40 each.
Get Moving!
Now you have no way to use technology as an excuse as to why you're not in shape. Start counting your steps, track your progress, or go play a game with a couple of friends. Remember that to reach any fitness goal, you need to ensure you're getting the correct amount of nutrition. If you want to pack on the muscles, you can take supplements like Nitric Oxide or omega-3 to help with your strength training. Getting in shape could not be easier, and you'll feel motivated every step of the way with the help of your new gadget.