There was a time when digital camera's were a rarity, now, you'd be foolish to consider buying anything else for your photo needs. We are going to take a look at and review two of the more popular digital cameras on the market and what they have going for them or not as the case may be, the Casio EX-Z75 Digital Camera and the Canon IXUS 75 Digital Camera. You can also refer to our digital camera size / dimensions
article for general specification breakdown of many other cameras.
First up for review is the Casio EX-Z75 Digital Camera. At 7.2 megapixels it's safe to say it's a couple of notches (at the moment) up on the omnipresent camera phone and it's '33 BEST SHOT' scenarios for easy setup comes in handy for the camera novice. However, that also leads us on to the first problem…
Outside of the 33 'Best Shot' scenarios, trying to take photos manually, adjusting the settings yourself, on the EX-Z75 can result in some very mixed outcomes. Ranging from worse than a 2.2 megapixel camera to just outright blurry. Its' anti-shake feature doesn't do much to stop the shakes so it's best to have a steady hand when taking those holiday photos. 'Best Shot' should be renamed 'Please don't fiddle with these presets…'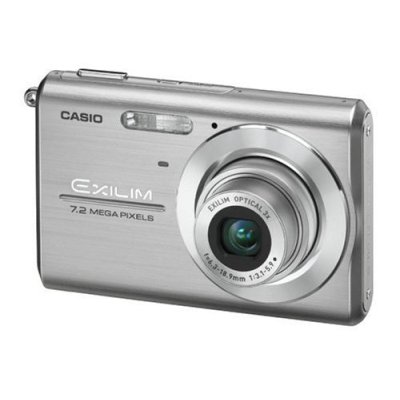 However, this isn't one of the most popular digital camera's for nothing. It's extremely compact, slim, stylish and easily slips into a pocket or handbag on a night out. Two of the cooler features it sports is the ability to take pictures in sepia as well as black and white and the timer feature lets you get in on a picture after you set the scene.
At around £80 – £100 (memory card not included by the way) it would fall well within the reasonable to 'budget' range of digital camera's so the Casio EX-Z75
definitely won't break the bank. This is not a bad deal for a casual use digital camera but other's may find it cheap as when held in hand, it may come across as rough when compared to more expensive options.
Getting back to the Best Shots feature, even though it really is the only way to take excellent pictures unless you're an expert in fiddling with digital camera settings, it does make it extremely easy to use straight out of the box and with 33 presets, you would be hard pressed to find a style of picture that wasn't already covered (sports mode and night portrait are particularly nifty).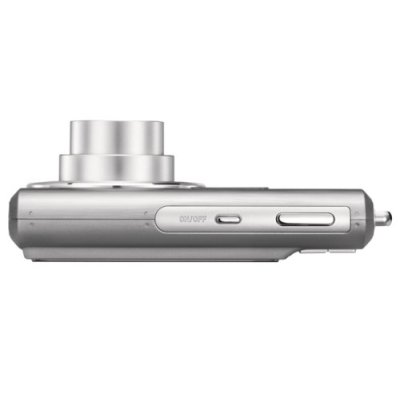 On a practical level the battery life (rechargeable) on the Casio EX-Z75 is extremely good and a single charge can last you in excess of 300 pictures over a week long period. The LCD screen is fairly large at around 2.6" so you can view your pics easily on the camera itself without waiting to get them onto your PC.
For the price, the Casio EX-Z75 Digital Camera
is definitely value for money and it's a pretty decent camera for both the novice and for those who can appreciate the excellent scope of shots you can get by experimenting with the various presets.
At point 1 (yes that's 0.1) of a megapixel less than the Casio, the Canon IXUS 75 Digital Camera is a close competitor in terms of size, usability and overall style and it also comes with a bigger 3 inch screen. The black 'face' of the camera makes it quite funky to look at too (check out our Canon Digital Ixus 75
gallery for more pictures).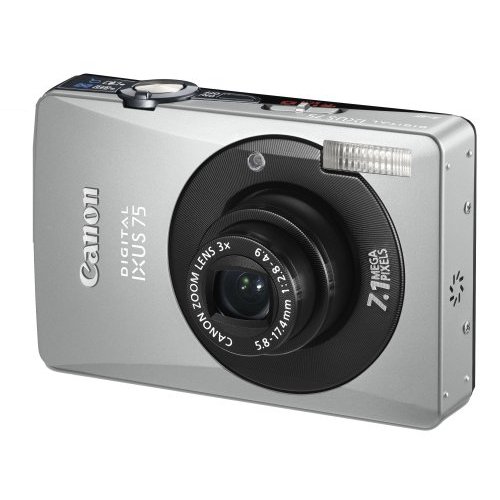 The quality of the screen is one the Canon's big selling points as it is scratch resistant and has anti-glare which makes taking and viewing your pics in the sunshine easier. The video quality is also quite good and you can get around half an hour of high quality video onto a 4GB SDHC card.
This is not a digital SLR (Single Lens Reflex) but it is an excellent point and shoot camera. Again this is very compact and unobtrusive when you're carrying it around town and for what it is, an easy to use digital camera, it's quite good but does have its flaws.
Despite the larger screen, the pictures on the Canon IXUS 75 Digital Camera can be slightly darker than you may expect which means using the correct settings is a must (printing your pictures at Boots or Photobox can automatically correct this problem).
The 9 point focusing system used by the IXUS 75 Digital Camera means that you do not have to be dead centre on the object you are taking a picture of which is a feature that should be standard on all digital cameras by now.
However, what is surprising about this camera is that even with it's AIAF focussing in full effect, still pictures taken indoors can still turn out soft and slightly out of focus. This is not always the case and you can get excellent quality shots on this camera but it makes you wonder if the 0.1 megapixel between the Canon IXUS 75
and Casio EX-Z75 makes a real difference (probably not in all honesty).
The interface on IXUS 75 is intuitive and starts up almost instantly. It shouldn't take long for anybody to get to grips with it (there is an advanced manual on the software CD supplied if the printed easy start-up manual is not enough). You can also review images without the lens being in operation which, although a small feature, is surprisingly nice to have – it can be annoying when you just want to view your pics and the lens makes ready to take more pics.
The Canon IXUS 75 Digital Camera
is a nice little camera for those of us who haven't got the time to search for that perfect shot on a DSLR but just want to point and shoot with a little video action on the side (only a matter of time until we see the death of the camcorder?). It's relatively robust and easy to use and the screen size is a definite plus. For information on other digital cameras, check out the digital camera size / dimensions
article.