Looking for something to liven up the man-cave or the home in general this Halloween? Or maybe you're the host of the party with lots of friends and family hungry for some high-end entertainment? There's an excellent selection of unusual gifts and presents available, including getting an arcade machine, or even a multigame arcade machine if you're looking to get the best of both worlds and limited space is a concern for a machine such as a arcade cabinet.
Even something as retro as a pinball machine to try and recreate the atmosphere of playing down the local arcade, but without the hassle of sticky carpets and other people hogging the machine. Pinball machines are a very strong option to consider if you're looking for your source of entertainment to run alongside your theme for the night.
Let's explore some of the options available to upgrade the home or man-cave before Halloween comes into effect with everyone expecting some sort of spooky theme and entertainment.
Arcade Machines
Retro seems to be the latest craze to hit everyone, so why not join them by going retro and getting a new arcade machine? With a huge range available, including classic games such as Pac Man Ghosts, all the way to more modern games like House of The Dead, there's a game to suit everyone this Halloween.
If you're a bit of a softy and don't cope well with blood, guts & horror in general then maybe you would prefer motor racing games? There's Super Bikes 2, Moto GP and Storm Racer to keep adrenaline flowing and the pedal to the metal. But if you got a bit of bottle about you and have a need for action and shooting this Halloween, then Aliens Armageddon or Operation G.H.O.S.T. will surely blast away the blues.
If the budget is lacking to get a new arcade machine before the big night as an impulse purchase, then don't worry. A lot of the arcade machines are available on finance, so there's no need to put your pre-bought Halloween masks on to go rob the nearest bank, as you now have the option to get an arcade machine and pay it off in monthly instalments.
Multigame Arcade Machines
If there's not enough space for a larger cabinet arcade machine, then why not consider getting a multigame arcade machine in the cocktail style? These are designed to be smaller than the bigger cabinet style machine, the fact that they're multigame means that there's more variety to be had when it comes to some classical gaming itself.
With a range of games available across a variety of machines, including machines with 60 games, 412 games or even machines with 1000 games pre-installed, there's plenty of choice available. The hardest decision will be to work out what games are the favourites from the lists and how much time can be safely spent playing them before Halloween arrives!
Like their bigger counterparts, these multigame arcade machines are available on a finance plan as well as being a much more sensible investment if you're looking for more of a variety of retro gaming this Halloween.
Pinball Machines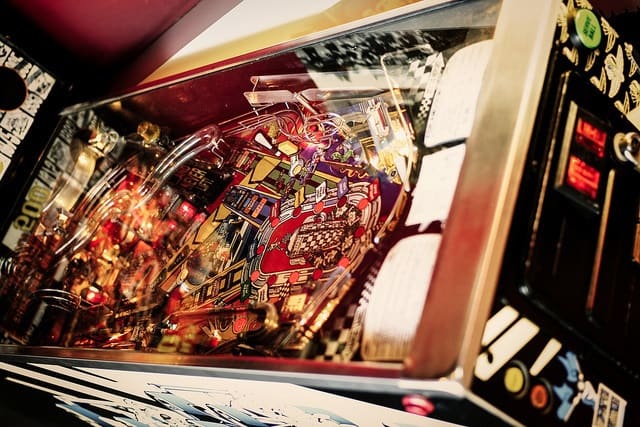 Should arcade machines not be in fashion in the home, then why not try going properly retro by getting a pinball machine? No longer shall we be restricted to playing just down the pub or the local arcade, pinball machines are now found in homes and office spaces. so next time your boss mentions a reward for all your hard efforts, you know what to do!
With a huge range available, including seasonal spooky pinball machines such as the more recent Walking Dead pinball machine or maybe the new Alien pinball machine may take your fancy, then there's a machine for all tastes & themes. Maybe you're a fan of classical monsters such as a Dracula? or even the Creature from the Black Lagoon? The point is there's a pinball machine for everyone to enjoy this Halloween.
However, should the family and friends prefer something less seasonal, there's plenty of other pinball machines available to purchase. These include machines based around cult TV shows like Game of Thrones, The Simpsons, films like The Avengers and X-Men or even favourite bands such as AC/DC, Metallica and Aerosmith for the hardcore music fan of the household. These variations of pinball machine will keep everyone entertained at Halloween no matter the number of monsters, ghosts & ghouls lurking outside.
If you're looking to make a cheeky purchase this Halloween whether it's an arcade machine, pinball machine or maybe a completely different machine that represents all that is retro gaming altogether then there are games room retailers such as Home Leisure Direct out there that are more than prepared to assists in delivering you the ultimate Halloween accessory to bring your home or man cave to life.
Got any ideas of how to keep the family and friends occupied and out of trouble this Halloween? Going to go retro and explore whether to get an arcade machine or a pinball machine? Got any good suggestions for films to watch this Halloween? Share in the comments below.