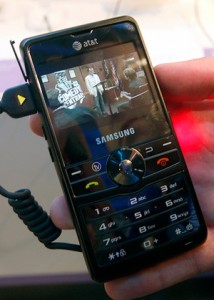 Mobile TV is not a new thing and I remember when I had my Nokia N70 I signed up to a subscription service that allowed me to watch around about 15 channels (didn't renew as the service wasn't great or reliable).
AT&T have now launched what we hope will be a much better service for your cell phone and actually has some new episodes of half-decent shows like CSI:NY, CNN and our favourite here at GadgetHeat
, Spongebob Square Pants.

They're also showing movies such as the fantastic Kung-Fu Hustle and classic Groundhog Day. If you like your television on the move and don't want to TiVo it or rush to get home the Television on your cell phone could be for you.
The cost? Around $200 – $300 for a compatible handset and $13-$30 per month for the service. Pricey? Maybe, but it depends on how much you value being able to switch on the TV whilst you're sitting on the bus home….On the other hand you could just get MobiTv which comes as standard on most AT&T Cell Phones…

Source wired