Summer is fast approaching and like the poet Nelly said it's getting hot in here (OK, that was cheesy but you get my drift). Like most people these days we at GadgetHeat
are going to be stuck behind a computer screen for most of the summer so we need to make the best of it.
We found this little gadget, the USB powered cooler and heater over at chinavision.com and although we're more into the coke than the carlsberg, its definitely going to come in handy when the temperature starts to hit those high numbers. The USB powered cooler and heater gadget comes in the shape of this retro 1950's refrigerator shape and looks pretty sweet next to your desktop.
Despite being in refrigerator shape it also doubles up as a heater so even in the winter you can keep your cup of coco in there to keep yourself toasty. Simply plug it into your PC or Mac USB port, choose whether you want it to chill or heat your beverage and let it do its thing.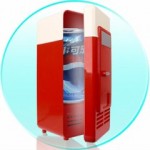 You can get your hands on the USB powered cooler and heater from chinavision.com for around $17