There are many reasons why VPNs are becoming more and more important in today's world.
Countries like China are cracking down on internet censorship, and at the same time cracking down on VPNs. Many other countries worldwide are spying on people like never before.
Also, hackers are more and more of a problem every year and on every level. If you are involved in highly secret business (like any sort of R&D), or deal with sensitive financial or other information and have to send and receive it over the internet, you have a constant need of a good VPN.
Hidester
offers up a new VPN that takes all of the above scenarios into consideration. Since different people have different situations and different needs, Hidester offers a maximum of flexibility to cover all types of situations where people may need the use of a VPN.
When you open Hidester it asks you a series of simple questions: where are you located in the world, what do you want to use the VPN for mostly, etc. Based on your responses, the program configures itself. These settings are, of course, always changeable at a later date for those who like to tinker with things.
Hidester has managed to build great and extensive worldwide server network, which they tell us is a main priority and is constantly growing. I'm happy to report that I consistently got pings of around 50ms from my location (in the southeastern US), and bandwidths of up to a megabit at times, which is about as much as you can expect from a VPN at the time of this writing, and head and shoulders above much of the competition. There were never less than two dozen options online at any given time, which is much more important than one might think. As more than one expat living in China has informed me, it's very easy to open up a VPN and be stuck with nothing precisely when you need it the most! So kudos to the people at Hidester for taking care of business in this area.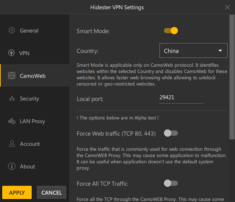 But the real strength of Hidester lies in its 3 different protocols, which allow you to tailor the service to your specific needs. There's OpenVPN, which is more our less your garden variety VPN protocol. But then there's CamoVPN for people who want that extra level of security, and CamoWeb, for when you don't need a full VPN but rather an encrypted proxy
. CamoWeb was by and large the favorite around here, because, and this is the kicker, CamoWeb will use the VPN if it finds a site is blocked locally and use a regular encrypted proxy connection for everything else, so you tend to get the best of both worlds using this protocol.
You also have the option (in the VPN modes) of activating a kill-switch function which blocks the connection instantly if there are any problems with the VPN. This is very useful in places like China where VPNs are illegal, and there may be a chance of authorities actively snooping to see if you are running VPNs.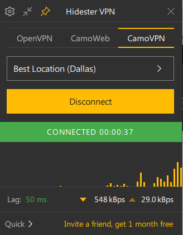 You can also customize the color appearance of Hidester, and it has four different sizes: Full, Small, Dock, and Tray. Along with this, you have the option to pin the Hidester window in front of other windows for those times where you need to monitor the health of your VPN constantly, for example, when streaming video overseas.
The only slight improvement I would love to see in Hidester would be perhaps a more user-friendly way of changing the settings. It would be great, for example, to see the initial settings configured by the questionnaire when you install the program available to change at any time afterwards, as a lot of people move around and also there needs change; it's easy to see how these settings could use some changing from time to time. As it stands, you can change them perfectly, but you need a little bit of knowledge to do it. This would help a lot with newer and/or less knowledgeable users.
Hidester is available for Windows, Mac, Linux (32 or 64 bit versions), and also of course for Android and iOS. Plans start as low as $5 per month.