Alarm clocks are definitely not our favourite gadget. They wake you up before you finish sleeping for a start and the snooze period is always just that little bit shorter than you were hoping for.
.
With that in mind however, Pascal Bardel has designed the concept Gélule, a pill shaped alarm clock. This is a rather unique looking version of the dreaded Destroyer Of Dreams (aka alarm clock)…
.
The Gélule, shaped like a rather large pill, is formed of an omni direction speaker that can be rotated to increase or decrease volume, contains a radio and a back-lit LCD display. If produced, the Gélule would come in a range of bright colours, designed to match the LCD display. Sequoia-studio, the Hong-Kong design house behind the Gélule pill shaped alarm clock , have released the video below showcasing the concept.
.
GadgetHeat is unsure as to how big the Gélule will be but if it's small enough to fit into your mouth, expect a few tummy's to be ringing the alarm come a sleepy Monday morning….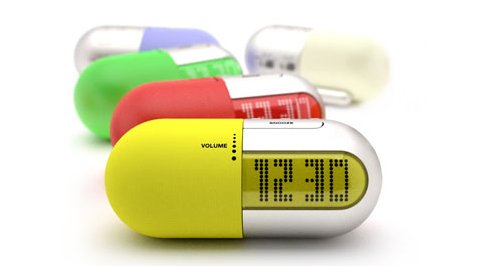 via source